Automated SMT Assembly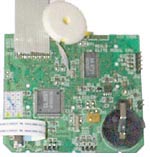 Automated SMT assembly of single and double sides PCB with CLM9000 pick and place machines

Maximum size of PCB –300 mm x 400 mm

Placement accuracy – 0.05 mm

The laser centering system can handle components size ranging from 0402 up to 30 x 30 mm with a pitch down to 0.025in/25 mil (0.6 mm).

Placing fine-pitch (0.020in/20mil/0.5mm or below), BGA or micro-BGA components with Vision system COGNEX TM. .

Components handled from tapes, sticks and trays.

Screen printing solder paste with Programmable Automatic Screen/Stencil Printer SP100.

Soldering in a ten zone IR reflow oven type HEEB HR-240/15

Vision inspection before and after soldering.